When I was growing up, I have very fond memories of shopping with my mom in Las Colinas (Spanish for "the hills"- which you know wasn't much for flat Irving, Texas!). I also spent many a childhood July 4ths on Williams Square in Las Colinas, where our local fireworks show would ring in the celebration of our nation's birth. As I head home for the holidays and a new year (2014 here we come!), I started to think about how this will be the Year of the Horse (according to the Chinese Zodiac). As a city girl, I never spent much time with real horses, but the one association I do have with the animals is with the Mustangs of Las Colinas sculpture.
If you've ever ventured to my hometown, you are bound to discover this breathtaking bronze sculpture of nine wild mustangs, galloping through the water. As a child, I remember being in awe of them- their size, their stature, their magnificence. So as we ring in a new year, maybe it's time I invite that same spirit of the horse- wild, free and strong! This lovely
charm
from Texas jeweler, James Avery also could be a good reminder!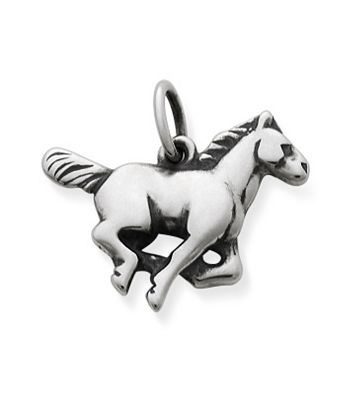 Running Horse $47
Happy New Year, friends. May 2014 bring you much joy.