Where does the time go? Goodness! A month since my last post- so Happy New Year! And when we ring in a new year, often we resolve to do (or not do) something that makes us feel and look better. I'm not a huge resolution person, but I can attest to starting fresh and wanting to make good choices in all aspects of my life- personally and professionally. I have loads of choices I'd like to make better this year, but this is a fashion blog after all :)
So, in the interest of being a good role model, here's my top 3 FASHIONABLE resolutions for 2015:
Wear what fits my body well. And in my case, that's dresses. I have an ongoing battle with separates (pants, skirts, jeans, etc.)- so quit buying them! And personally, I find it infinitely harder to wear separates as a girl with some curve. Alas, wear what fits my body well!
Been coveting
this
for months: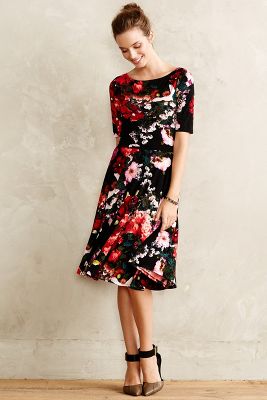 Anthropologie $178
Wear clothing/shoes that are more feminine. I forget that it's nice to look and feel feminine (I hear fellas like that), and even though I tend to dress more "girly" than most, sometimes simple touches of lace, bows or even showing a little skin (appropriately) are really very powerful!
Such a pretty
shoe
! And the SJP line is precious.
Sarah Jessica Parker "Margaret" suede pump $355
Carry a purse that is both functional and fashionable. My colleague just scored a fabulous Michael Kors bag and she's never looked back. Can't say I blame her! I'm a fan of red- adds a pop of color when everyone else is dragging around black.
Such a
classic look
(and would look great with that dress above!)
Michael Kors Selma Medium Sachel $298



Have a wonderful start to 2015!