While the season for holiday shopping is upon us (did I hear this right, 8 weekends until Christmas??), I have been thinking about holiday wear. Now don't get fussy at me for posting before Halloween even arrives, but I figured we all need a little time to consider what to buy to look fabulously dashing. And I am noticing every merchant out there is already putting their holiday clothing on pre-sale...25% to 40% off, so you'd be foolish not to keep your eye out now!
So, one trend that's hot this holiday is brocade- that lovely fabric that somehow makes us feel less like wearing our grandma's outfit and more like royalty. I'm noticing some really special brocade pieces out there that are decently priced and give you that little bit of shimmer and shine without going overboard.
Niki Taylor is a great face for
Talbots
-
and this dress makes her look like a million bucks!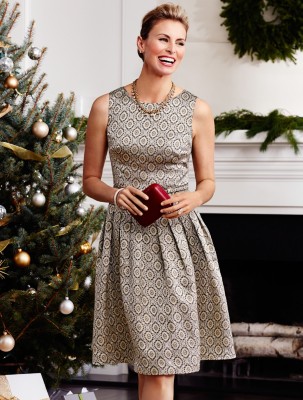 Golden Brocade Dress $189
I adore
polka dot
, and this is near perfection!
Anthropologie's Josseline $198






Such fun
with a classic white button down and heels!
Nordstrom's Hue Foil Brocade Leggings $44


These
have just the right amount of shine and style.
Nordstrom's Ivanka Trump "Laura" flat $129.95
Maybe I just want to make this holiday season feel a little special.
Brrrrrr-ing on the Brocade!