I was recently helping a friend of mine shop for Roll-tide Weekend: Alabama vs. Ole Miss (as I write this, the game is underway). She and her hubs were invited down for the festivities- and her calendar was full of meals, gatherings, and cocktail parties...all before the big game. Needless to say, the wardrobe had to include a healthy variety of crimson and...one of THE biggest trends of fall 2012: Houndstooth!
It takes guts to pull this off.
If you haven't noticed, it's everywhere...and honestly, I love it. The pattern. The use of black and white (my staples) or the pop of color (see below). The classic, preppy style. So fab. I have a 7 year old cotton houndstooth jacket from the Gap, and it's a go-to for me. I even used to have the matching capri pants (see outfit above) that made it look like a suit. I loved it. The pants got a little too snug (alas) but I've held tight to that jacket! I do secretly wish I had kept the pants just to appreciate the full outfit :) Here's a few favorites of mine from across the fashion world...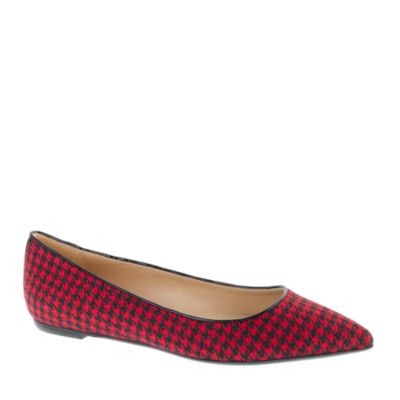 JCrew got it right with these.
This
looks divine with black pants.
Vince Camuto's sweater from Nordie's
Nordstrom Collection








Tory Burch "Virginia"
Maybe the pattern just isn't your cup of tea, but if nothing else, it looks down right adorable in accessories like scarves and ties (for your gent!)- and it'll simply never go out of style.