In my monthly perusal of O magazine, I came across the coolest idea, but fair warning...this is for the deluxe readers (my friends Jeannette and Ron come to mind), so I recognize that this may not appeal to the masses.
Monogram and personalization of items is trendy these days. You can get your name inscribed on the back of your iPod...You can get personalized license plates...OR you can get your Prada sunglasses monogrammed. WICKED COOL.
If you are going to get designer sunglasses (protect those peepers, people!), usually there is some kind of insignia on the side frame of the glasses. Chanel or Dolce & Gabbana are known for more overt branding here. Burberry or Prada are among the more subtle (more my taste) which give you the designer label, but you'd have to look closely.
But better yet...the monogram. I'm obsessed with my "MD" on accessories or home decor. You can see the picture here of
Prada's Private sunglasses
, which feature small discs of your initials that can be placed along the side bar of the glasses. The "PN" featured below demonstrates the subtle coolness of this idea!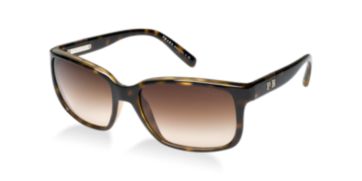 So when you're ready to take the plunge of spending $365 (yikes) for sunglasses, you really should consider how precious your initials are to you!