I know my sister will laugh at this post because she's a QVC junkie! And I admit, I have been suckered into the world of multimedia retail. QVC sells an enormous variety of merchandise: Clothing, Handbags, Jewelry, Beauty Products, Electronics, and way more. But I'd like to focus on the world of
QVC jewelry
.
Many may know jeweler Tacori, who have created a line on QVC that is absolutely amazing. They joined up with two other product lines called "Epiphany" and "Diamonique" to produce one stellar piece of shimmer. Let's do a vocabulary review before I dive in:
Diamonique Jewelry
: Longing for the brilliance of diamonds but want an affordable option? Set in precious metals (14K gold, sterling silver, or
Platinum Clad
® sterling silver),
Diamonique
stones are diamond-carat size rather than weight. Precision-cut from premium materials, they're rated E on the color scale - a perfect blue-white. (courtesy of the QVC website)
Epiphany Collection
: Go platinum for less with
Epiphany
® jewelry. A layer of platinum is plated onto a sterling silver base, resulting in a luminous
Platinum Clad
® look (courtesy of the QVC website)
Now,
Tacori IV
: So they took the Diamonique stones (which are incredibly brilliant and sparkly) set them in the Epiphany Collection (note: the layer of platinum is what's closest to your skin), and then used their iconic intricate designs to create the BEST collection of jewelry. Here's
one ring
I just purchased (for $40!):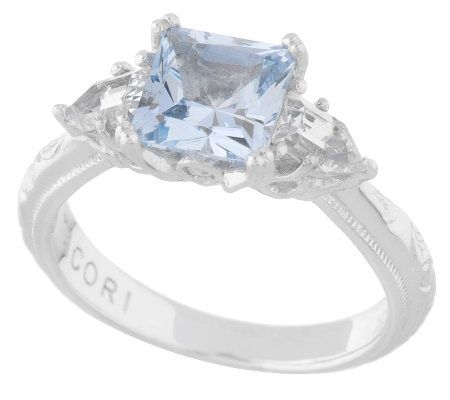 And then, I found these
lovely studs
that sealed the deal!