After the wicked (yes, I said wicked) rain storms from last week in New England, the term "in the trenches" came to mean more than the obvious! I saw more trench coats out in full force than ever before. And not just for style reasons...practicality won over tenfold!
Yet, this spring, trenches are EVERYWHERE. Holding true to the color of choice, khaki, they are exploding at stores across price ranges. From the iconic
Burberry trench
(seriously, if I could afford this, it would be mine), to the more reasonable ones at Gap, Ann Taylor LOFT and Banana Republic. I've secretly coveted this adorable one at
Anthropologie
sporting tiered ruffles!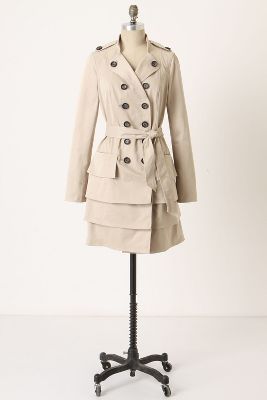 I did finally cave and snagged
a well priced one
from LOFT that looks precious with a colored long sleeve shirt popping out from the 3/4 length sleeves. (My mom's idea) Months ago, when my mom, sister and I ventured out for Black Friday, I scored an adorable black trench at Kohl's made by Simply Vera (Vera Wang), which I have started to wear. It's the perfect weight, and reminds me AGAIN why this classic style coat spans decades.
I'm ready for the next rain storm (especially now that I finally got my
GustBuster umbrella
- see my entry from January 21, 2010) so bring it on! Or, maybe just a gentle, spring rain shower instead of a nor'easter?